In September 1859, a Lipan and Mexican bandito attack was perpetrated on families living along the Pendencia Creek in what is now Dimmit County, just a few miles south of the Zavala County line and a few miles east of the Maverick County line. L.D. Lafferty tells sweeping details of the horror in the The Old Rover book, while carefully omitting the fact that he lived there with his 6 children and their mother. In fact, Abney writes that the information published in the San Antonio Daily Herald was "very incorrectly given".
Fragments of information come from the 1860 Maverick Co, TX census page that eleven months later enumerated the area of this disaster. Five homes are "unoccupied" but show the names of their former inhabitants in parenthesis, which is somewhat unusual given that the attack occurred so many months in the past. A note across those five properties reads: "Deserted settlement on the Pendencia on acct of Indians." Family names: J. Wilson, Geo. Stark, J. Bell, D. Lafferty, D. Tucker.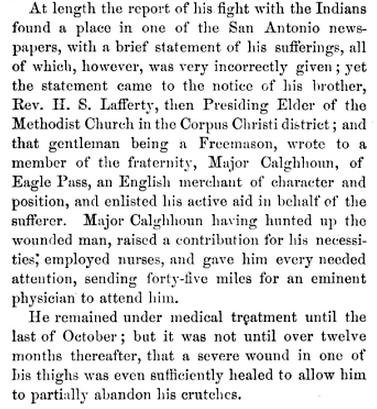 This is a page of The Old Rover book that gives an introduction to the story.
Timeline of Events
April 26, 1859
L.D. Lafferty of Bexar County gives Power of Attorney to Henderson Lafferty. Validation in Victoria County July 15, 1859. (Recorded in Dewitt County.) This may have to do with a judgement in Bexar County for L.D. and against Albert Adams and Lucinda. Lucinda is dead prior to 1860 census and Albert is on 1860 census in Alabama, with their two boys and likely with his sister/kin. It also may be tendered because L.D. is leaving the DeWitt County area and heading for the Pendencia.
September 8, 1859
Date of the attack on the Pendencia. Lafferty is noted (newspaper) as being in a house on the northwest side of the creek with a woman and four children. Abney leads us to believe, in recounting the story, that the woman is Worman's wife and they children are Wormans also.
On this date, the Lafferty children's ages are: Mary 8 yrs, Burr 6 yrs, James 3 yrs, Leon is 2, John Henry is a baby of only 7 months.
The Pendencia settlement is roughly 30 miles from Eagle Pass.
September 12, 1859
Letter is sent to San Antonio Herald newspaper from William Stone of Eagle Pass. It states that the attack occurred on the 8th instant. Note that "Wm. Stone" is a merchant listed on the Eagle Pass census of 1860, in close proximity to Ludovic Colquhoun.
October 31, 1859
Abney writes that Lafferty "remained under medical care until the end of October".
Sometime in 1859
Methodist Quarterly states that Henderson Lafferty preaches at Bob Kincheloe's house on Little Creek in the Sabinal Canyon (near Utopia). Writer notes that Henderson was pastor of Corpus Christi church in 1861.
July 23, 1860
Ludovic Colquhoun is enumerated in the Peacock household in Atascosa County. Atascosa was formed from Bexar in 1856.
July 30, 1860
Colquhoun is enumerated in Eagle Pass, Maverick County with two dwellings side by side.
September 10, 1860
Henderson is present in DeWitt County for a land transaction. 160 acres on Smithy Creek (of the Coleto) about 4 miles west of Yorktown. Could this be the unaccounted for parcel left of the 480 acres that L.D. purchased in May 1856? See Land Records. Henderson might have been selling the property for L.D. who was still on the mend somewhere in the vicinity of Eagle Pass.
February 4, 1862
Referencing the Lafferty/Cox agreement at Fort Clark (filed in Uvalde County). This document names five children which are presumably Lafferty's kids, so at least this number apparently survived the Indian attack on the Pendencia.
About the Pendencia Settlements
The creek rises about 11 miles west of present day Carrizo Springs and runs northeast for about 15 miles to its mouth on the Comanche Creek. it was originally a lush area, according to reports by such as Phil Sheridan, who camped there in the early 1800s. Before it was settled, the area became known to a number of men who went there on Indian patrols, to hunt mustangs, or to seek good places to feed and water their cattle.
Of some interest to the Lafferty story is the fact that a company of black families, led by John Townsend of Nacogdoches, attempted a settlement in this area just before the Civil War. Indian troubles forced them to abandon the site. The 1860 census still shows several black families here, among them: Wilson and Bell. If the area was populated with families of mixed race, as well as folks from Ireland, Mexico, Nassau, Denmark, Switzerland, Prussia, France, Great Britain, Germany — as well as New York, Ohio and Indiana — likely a family such as Lafferty's would blend in.
Pendencia Families Identified in Wm Stone's Letter to San Antonio Herald
Mr Worman, wife and baby. Deceased
Mrs. Hunter, two young daughters. Deceased
Mr. J. Wilson. Survived as he was not at home.
Mr. D. Lafferty, "woman and four children". Wounded; survived.
Cosme Ramos and mulatto wife, Gertrude Bell. Survived.
Wilson and Ramos later found the Indians encampment, and organized a troop, commanded by William Stone, to chase after them. The merchants in Eagle Pass "threw open their stores, and generally told the volunteers to help themselves to supplies".