Eagle Pass was an interesting town in the 1860s!  This partial census listing  below shows wealthy merchants and settlers from all over the world, gathered in this little Texas town on the Rio Grande River.  Most certainly these merchants were engaged in trade with Mexico on the eve of Civil War in the United States..
Fort Duncan is included in this census, with solders hailing from Ireland, as well as many states in the Union.  With them is listed quite a few households of single women with the occupation of laundress — and several small children.
Note HH 173-174 are listed as belonging to Ludowic Colquhoun (with no other information listed about him or his family).  He is well known to the census enumerator, Lorenzo Castro, so information was likely entered about his dwelling even though he may not have been present at the time.  It's Colquhoun who was contacted by fellow Mason, Rev. Henderson S. Lafferty, to offer aid to old Lorenzo and family after the August 1860 Indian attack.
The Not Stated part of the Maverick County census is only two pages, marked 19 and 20, and enumerated on August 9, 1860.  The entire Maverick County census is enumerated by the same person, Lorenzo Castro.  It is contained in three sections:  Eagle Pass, Fort Duncan and Not Stated.  Household numbers begin sequentially in Eagle Pass and end in the Not Stated section.  Page 18 is the last page of Fort Duncan, but it includes an additional list of [all Hispanic] names after the Fort Duncan section is completed and certified.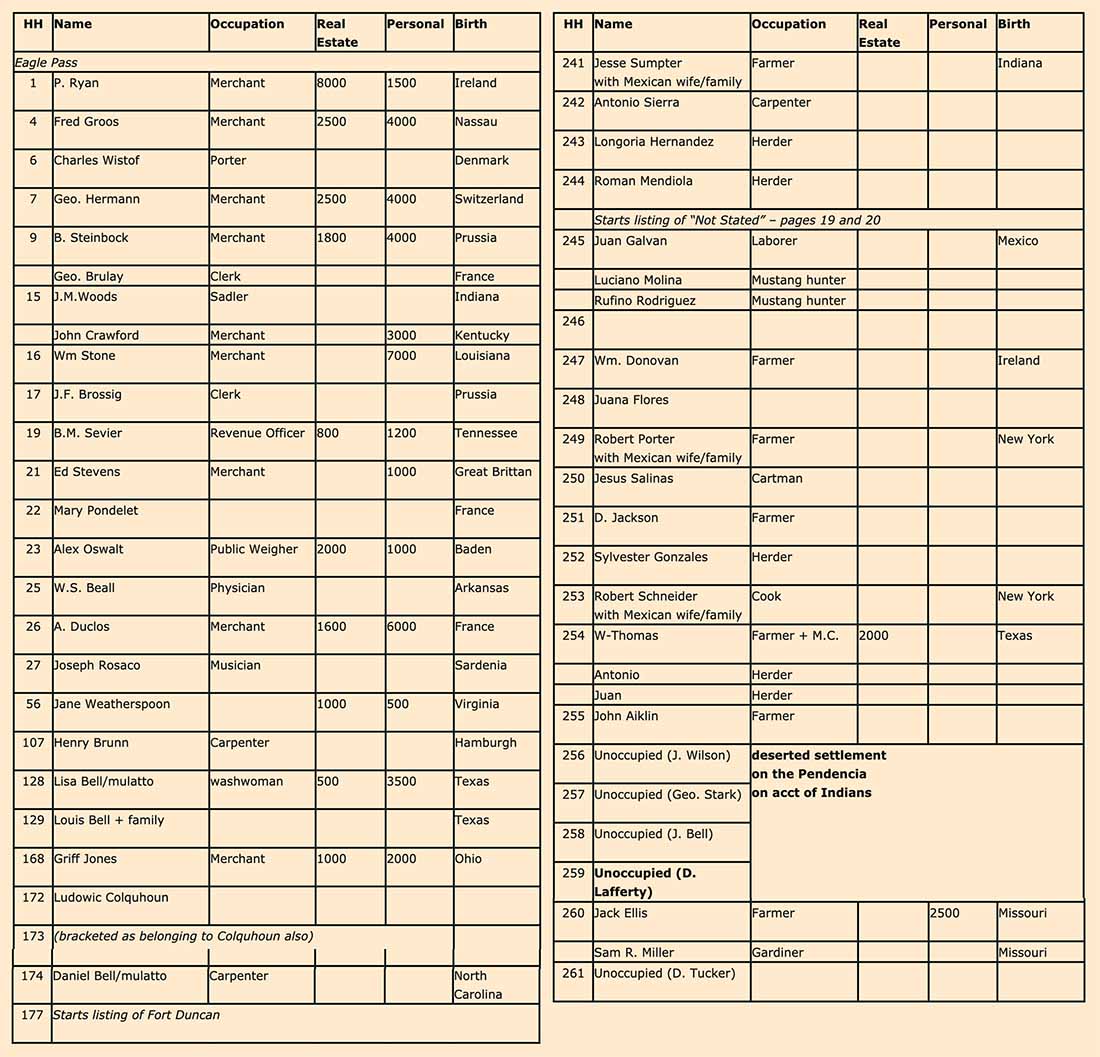 Following is Castro's certication statement for the Not Stated section:
"I do hereby certify that pages No. 18 to 20 inclusive of Schedule No. One which [unreadable] the population in the county of Maverick (Eagle Pass and Fort Duncan excluded) to be twenty seven inhabitants, twenty one buildings or dwellings, and fifteen families was made by me according to my oath, instructions and to the best of my knowledge and belief.
Lorenzo Carter"