It's been a source of mystery how L.D. Lafferty was able to purchase what he referred to as the San Juan Rancho in Bexar County. 377 acres was bought for $2800 in October 1856. Documents show that the property had belonged to the San Juan de Capistrano Mission on the San Antonio River just south of San Antonio.
Mission Secularization
Research shows that secularization of the mission occurred on July 14, 1794. Religious services were held in the church until 1967, but the native populated village on the mission lands had long since been disbanded and moved on. The mission was neglected until 1840, when there was a revival of services. In later years, a Mexican neighborhood around the mission grew — mostly due to the construction of a railroad nearby in 1855. (Read more about the San Antonio & Mexican Gulf Railroad on the University of Incarnate Word's website.)
Since Lafferty was in the business of collecting and selling (to Mexico) the wild mustangs that roamed what was called the "Wild Horse Desert" area of Texas, perhaps he wanted to be near a railroad line to facilitate his business dealings.
Documents prepared for the nomination of Mission San Juan Capistrano to be on the National Register of Historic Places say that, besides the church(s), there were "foundations of some of the Indian quarters, the convent, granary foundations, the well and an old residence (c. 1824) built within the mission walls after its secularization."  A photo of the mentioned old house is included in these nomination papers. It's small, but could have been the family residence — or they could have been quartered in the old convent buildings.
A Storm and a Painting
Persistent searching and attention to detail pays off in fitting together the illusive story of this man and his second family.  A storm in San Antonio in March 1858 is reported in The Weekly Telegraph newspaper, and it's noted that a stone dwelling (just three miles from the city) of Mr. L.D. Lafferty was 'blown away" injuring two children.  This fits the description of the property at Mission San Juan or San Juan Rancho.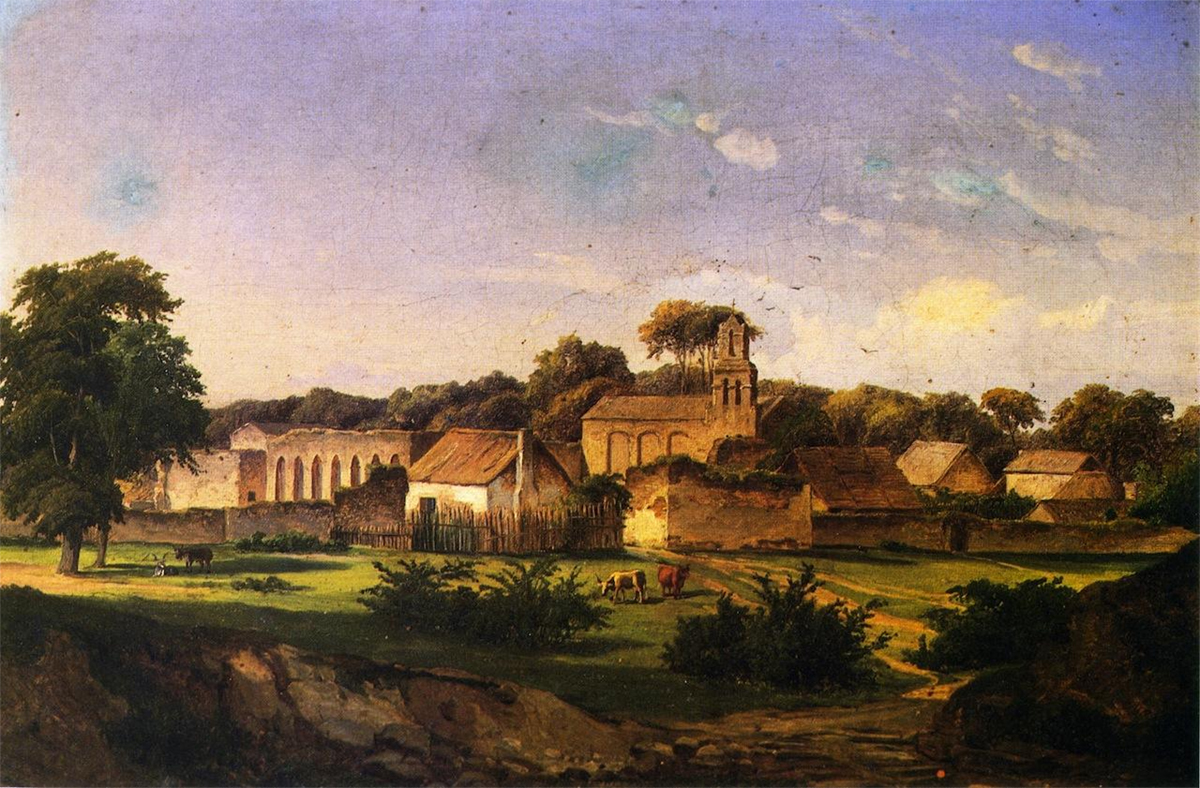 German artist Hermann Lungkwitz came to Texas in 1851. He lived on a farm in the Pedernales settlement near Fredericksburg. Hermann loved creating paintings of the Texas Hill Country.  He painted this scene of the Mission San Juan de Capistrano in 1856. Perhaps he met the Lafferty family or stayed with them when he was painting! This lovely painting gives some peek at what life may have been like on Lafferty's rancho.